Leader in Training Week: July 3-6, 2018
You can apply to LIT Week through our online registration portal.
4-day program for older campers (15 – 18 years)
Tuesday, July 3rd – Friday, July 6th
Overnights on Wednesday and Thursday nights
Emergency First Aid with CPR B training included
Food and accommodations included

Basic canoe training provided

40+ volunteer hours towards Ontario Secondary School Diploma
This program is designed for older campers interested in learning more advanced outdoors skills and developing their leadership abilities. The camp fee includes the cost of Emergency First Aid with CPR B training.
Activities include:
First aid training and emergency drills at camp
Orienteering, fire-building, and other outdoors skills
Leadership training and practice designing camp activities
Canoeing instruction, hikes, and swimming
LITS who successfully complete the program are invited to volunteer at regular camp sessions! LITs gain leadership skills, first-aid certification, and volunteer hours towards their Ontario Secondary School Diplomas.
Apply to volunteer by emailing director@ecoadventurecamp.ca with your availability. There is no cost to volunteer.
Date
Schedule
Tuesday (July 3, 2018)
Elbow Lake Day 1 – Overnight #1
First-aid training and orientation
Training takes place at Queen's University CampusParticipants bring own packed lunch and snacks
Wednesday (July 4, 2018)
Elbow Lake Day 1 – Overnight #2
Breakfast, lunch, snacks, and dinner provided
Thursday (July 5, 2018)
Elbow Lake Day 2 – Overnight #3
Breakfast, lunch, snacks, and dinner provided
Friday (July 6, 2018)
Elbow Lake Day 3
Breakfast, snacks, and lunch provided
Participants dropped off at Queen's University Campus at 4:30 – 5:00 PM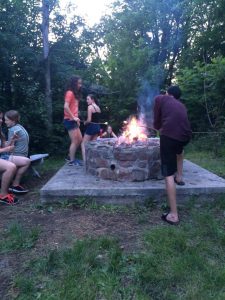 Packing List
Lunch and snacks for Tuesday
Reusable water bottle
Sun protection (hat, sunglasses, and sunscreen)
Socks and shoes (sneakers or sturdy sandals)
Swimsuit and towel
Clothing for cold or rainy weather (sweater, rain coat, long pants)
Sleeping bag (or sheets and blankets), pyjamas, and a pillow
Flashlight
Toiletries (we have showers!)
Changes of clothes (we're always active and often dirty!)
The biodiversity at Elbow Lake includes the black-legged deer tick. We recommend wearing long pants tucked into socks for protection. You may also want to bring a bug repellent approved by Health Canada.